Actor Lukas Gage and Kim Kardashian's hairstylist Chris Appleton to divorce after 6 months
-
The honeymoon era is over for newlyweds Chris Appleton and Lukas Gage, who are splitting up after six months of marriage.

Appleton, a celebrity hairstylist known for working with A-listers Kim Kardashian and Jennifer Lopez, filed for divorce from "Euphoria" and "The White Lotus" actor Gage at the Los Angeles County Superior Court on Monday, according to court documents obtained by USA TODAY.

Appleton cited "irreconcilable differences" as the cause of the couple's split. Appleton and Gage separated on Friday, according to the filing.

USA TODAY has reached out to Appleton and Gage's representatives for comment.

The former couple shared no children during their brief marriage. As for spousal support, Appleton requested to terminate the court's ability to award support to himself or Gage. In the pair's postnuptial agreement, executed in May, both Appleton and Gage waived their rights to spousal support.

The split follows a whirlwind romance for Appleton and Gage, who first sparked relationship rumors in February after Appleton shared a photo of the couple during a trip to Mexico. Appleton confirmed their romance during a March appearance on "The Drew Barrymore Show."

"I'm very happy," Appleton told Barrymore at the time. "I'm very much in love, and I feel very grateful to be able to share my time with someone very special. Love is a really special thing."

Appleton and Gage married in an intimate ceremony in Las Vegas in April, with Kardashian officiating the nuptials. The hairstylist and "You" actor tied the knot just a month after going public about their relationship.

Ahead of the ceremony, country icon Shania Twain performed the couple's favorite song, "You're Still The One." The two embraced rock 'n' roll chic for their marital attire, wearing matching black fur jackets, shimmery unbuttoned blouses and leather pants.

Appleton extended a "big thank you" to Kardashian and Twain in an Instagram post commemorating the wedding, adding "we did it 💍" Gage shared the same photos and videos on his Instagram, captioning his post, "ring finger where the rock is."

During an appearance at the Fashion Los Angeles Awards in April, Kardashian led a tribute to Appleton, who was honored with the Hair Artist of the Year award at the ceremony. Kardashian briefly interrupted Appleton's speech to congratulate him on his relationship with Gage, who also attended the ceremony.

"I am so happy he's in a relationship right now, and that it's, like, out there," Kardashian said at the time. "I'm so tired of all my girlfriends and guy friends asking me if you're available."
-
---
Related Articles
HOT TRENDS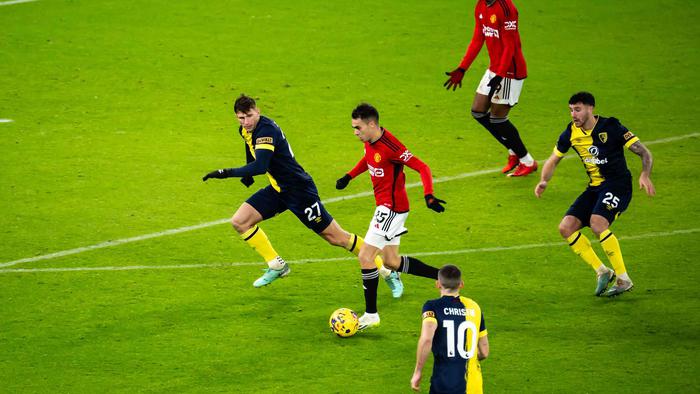 HOT TRENDS