Erling Haaland Man City ban demanded for sweary Jack Grealish declaration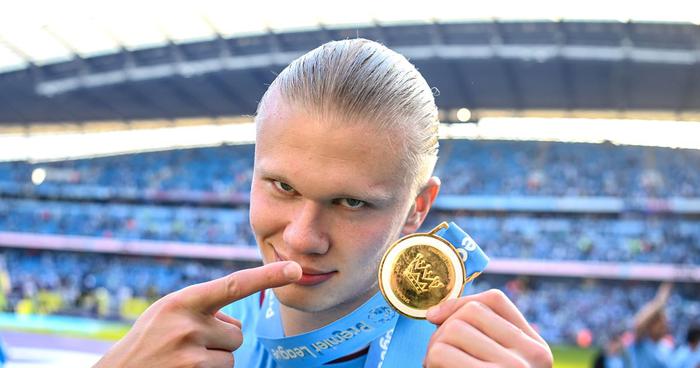 -
Erling Haaland is expected to start the FA Cup final against Manchester United next month but opposition fans are calling for him to be banned.

The Manchester City striker was caught dropping the f-bomb on Sky Sports after telling midfielder Jack Grealish how much he loved him following his sides 1-0 win over Chelsea on Sunday afternoon. Man United fans have now called on the Norwegian frontman to be suspended for the English showpiece at Wembley on June 3. It comes after Wayne Rooney was banned for swearing into a camera in 2011.

Haaland approached Grealish while he was being interviewed on Sky Sports and said: "I f*****g love you". Rooney was slapped with a ban from the FA Cup after looking down the camera and swearing in Man United 4-2 win over West Ham United. The England striker was forced to miss the semi-final against Man City, a game they would go onto lose thanks to a striker from Yaya Toure.

After Haaland swore Man United fans were quick to take to social media.

On said: "So Haaland swears on live tv for no valid reason but the Fa won't do anything about it. Rooney swore back in 2011 after scoring a crucial goal in the title race and was banned missing the fa cup semi final against City. Haaland here should be banned for 3 games. @FootballAssoc."

A second posted: "I recall Rooney missing a FA Cup semi final doing the same thing. Shouldn't be any different. Ban is the only correct action here but of course the FA s***houses won't do a thing."

"So they will ban Haaland the same way they banned Rooney for two games after saying f****** what? To the camera after scoring vs West Ham. Thought not," a third wrote.

Another said: "Wayne Rooney got 3 match ban in 2011 for swearing on live TV, this saw Rooney miss the FA cup semi final against Man City which we lost 1-0, if same rules apply then surely Haaland should be banned for the FA cup final."

While a fifth added: "Haaland swearing on the tele, ban him for the cup final immediately."
-
---
Related Articles