Is 'Profe' Ortega To Blame For Atletico Madrid's Injury Issues?
-
Diego Simeone could be set to make a major change to his coaching staff with speculation circling that fitness coach, Óscar "Profe" Ortega, will not have his contract renewed come the end of the current season. That decision would bring to an end a 13-year stint at Atlético Madrid and a 17-year working relationship with Simeone.

Despite the fact that Simeone extended his contract to 2027 this week, it is expected that Ortega will not prolong his stay at the club alongside his colleague, according to Diario AS.

Ortega has been the club's fitness coach since he joined the club alongside Simeone in 2011, and has led all fitness activities at the club since then. His eccentric style, often being one of the most vocal figures on the touchline, mean that he is easily recognizable as one of the faces of the coaching team.

Even so, his future seems to be away from the Estadio Cívitas Metropolitano as he takes the blame for the club's ongoing injury issues which have meant that the team have been without several key figures at crucial points of the season in recent years.

As many as 16 players from Atlético Madrid have already been sidelined at some point this season due to injuries. Among the most persistent have been the likes of José María Giménez, Thomas Lemar and Memphis Depay, all of whom have missed more games than they have been available for this season.

While some are long-term impact injuries, such as the anterior cruciate ligament tear which has kept Reinildo out since early 2023, many have been muscular. The likes of Koke, Rodrigo de Paul, Pablo Barrios and Saúl Ñíguez have all fallen with muscular issues, with many questioning the techniques which cause so many muscle problems.

What has been most concerning has been the regularity of injuries in some cases. Marcos Llorente is a prime example, having not suffered a muscle injury in over two and a half years before he suffered a hamstring strain in October 2021. In the two years since, he has missed 21 matches for Atlético.

Many point to Ortega's techniques, which are based on rugby exercises which prime explosive power and pace and test muscles to the limit. His traditional hill-running exercise as part of the club's pre-season is seen as an out-of-date approach to conditioning, and one which has not always gone down well with players.

The duo first worked together over 20 years ago, when Ortega worked as a coach for Atlético while Simeone was still a play for the Rojiblancos. When Simeone went into coaching, he didn't take long to turn to Ortega and bring him into his coaching team while with River Plate in 2007.

Since then, the pair have stuck together, moving to San Lorenzo, Catania and Atlético Madrid once again as they returned to Spain in 2011. Ortega has been one of the few constants to remain throughout the full 12-year spell of Simeone in the Spanish capital, outlasting former assistant coach Mono Burgos, who left in 2020.

However, there has been tension between the two. That tension culminated a year ago, when Ortega was granted permission by the club to be absent from training to join the Uruguayan national team for their World Cup campaign in an unprecedented move which is said to have left Simeone far from pleased.

Rumours have persisted that the two have fallen out with Adrián Barrios telling Atlético Stats that their relationship is "completely broken down" and that they "have not spoken for months". Simeone is now believed to be the man pushing for Ortega's contract not to be renewed, despite the coach still having strong support from Miguel Ángel Gil Marín, the club's CEO.

That seemed to be further fuelled this week, as Ortega was absent from the celebratory photo as Diego Simeone put pen to paper on a new contract which will run to 2027. Alongside him were Nelson Vivas (assistant coach), Hernán Bonvicini (third assistant coach), Pablo Vercellone (goalkeeping coach) and Gustavo López (assistant).
-
---
Related Articles
HOT TRENDS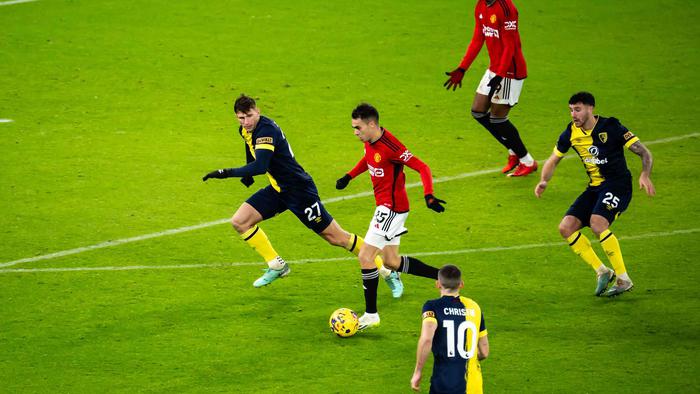 HOT TRENDS