Katie Taylor braced for 'hardest fight of career' against Chantelle Cameron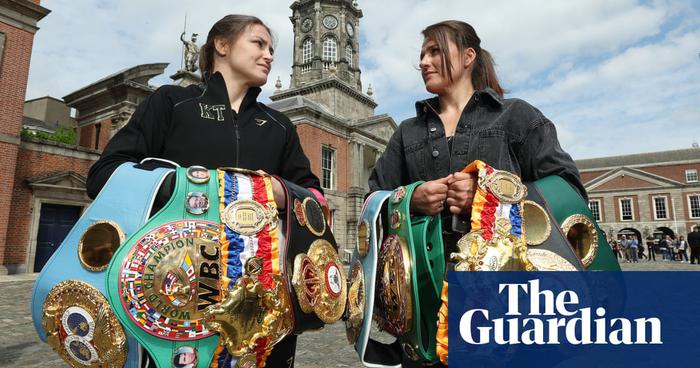 -
Katie Taylor is a shy and intensely private woman, despite her great fame and devoted following in Ireland, and she dislikes being the centre of attention. She is also polite, amiable and a committed Christian who has made a new home for herself in the small and quiet town of Vernon, Connecticut, where she trains for her fights.

Ten days ago, just before she flew home to Dublin to prepare herself for the seething atmosphere she will generate on Saturday night at the 3Arena when she steps into the ring to face Chantelle Cameron in a difficult battle for the undisputed world super-lightweight title, Taylor explained why she loved Vernon. "The peace and quiet out here is amazing. There is nothing to do other than train as it's in the middle of nowhere. I think it's the perfect spot for me. The tranquillity suits my personality. You very rarely see even a car driving by, that's how quiet it is. Nowadays this place feels like my home away from home."

Her fascinating bout against Cameron will mark the first time that Taylor, who is a fighter to her very core once the bell rings, has been able to box professionally in Ireland. The gangland strife between the Kinahan and Hutch cartels has resulted in the murder of 18 people – the most infamous of which occurred with the killing of David Byrne at a boxing weigh-in in Dublin in February 2016. Police believe that the gunmen had been aiming to assassinate Daniel Kinahan, the leader of a drug-dealing and money-laundering empire which is said to be worth over a billion dollars. The murderous tit-for-tat reprisals which followed meant that professional boxing was considered too dangerous to take place in Ireland.

Taylor has been a professional boxer since November 2016. She is the most high-profile fighter to have been affected by the unofficial ban on all but a few small-hall Irish boxing shows over the past seven years. Taylor is so good in the ring, however, that she still established herself as the most significant and richest female boxer in the world. But her belated home debut as a professional is fraught with considerable risk.

She had hoped to fight Amanda Serrano in a rematch of their epic contest which, last April, became the first women's bout to headline Madison Square Garden. It was a thrilling and brutal fight which Taylor almost lost when she was hurt badly by Serrano in the middle rounds. She had hoped to face Serrano again for her Dublin return at Croke Park, in front of a sold-out 82,000 crowd, but her Puerto Rican rival has been struggling with injury.

It has been said that Taylor would have filled the 3Arena, which will be crammed with 10,000 fans on Saturday, even if she just pummelled a heavy bag in an exhibition workout. But she chose a formidable replacement for Serrano in the unbeaten Cameron, who has won all 17 of her fights without being unduly troubled. Taylor called out Cameron, in a display of bravado she normally shuns, for she felt that her return to Ireland warranted a compelling challenge.

She moves up from lightweight, where she is the undisputed world champion, to face the taller and heavier Cameron who holds all the belts in her division.

Cameron is three inches taller than Taylor, with the same advantage in terms of her reach, and by the time they have eaten well and fully rehydrated after Friday's weigh-in she will carry more than the five pounds which are meant to separate them as lightweight and super-lightweight champions. Taylor is also, at 36, nearly five years older than Cameron and she has been through many more wars than her English rival in winning all her 22 fights.

Yet Taylor is, clearly, the more naturally gifted fighter, and an Olympic champion, who has boxed at a higher level than Cameron throughout her storied amateur and professional career. She said recently "this could be the hardest fight of my career" but, when the bout was first mooted in 2020, Taylor welcomed the idea. "We fought as amateurs and I beat her [in 2011]. Chantelle is obviously a great fighter but I am happy and willing to fight whoever. I don't talk bad to anyone, and I guess my career has shown that."

Cameron has said before that "I'm coming to take over" when predicting she will become the dominant force in women's boxing. She has also insisted: "I don't say much. But, when I'm in the ring, I just walk through people."

Yet she has never fought in an atmosphere as fevered as the clamour that will engulf her during Taylor's homecoming bout. Cameron also knows that, even if she is the champion of her division, she faces the most beloved sporting personality in Ireland.

If the fight is close, which is likely, the woman from Northampton will be entitled to worry that the three judges could be swayed by the enormous noise that will accompany every successful punch Taylor lands.

It will be a test of Cameron's nerve for Taylor has been in contests of similar magnitude before. Of course all these gruelling and emotional bouts have taken their toll on Taylor who, in recent years, has shown some of the wear and tear of the cruel fight business.

The quiet woman from Bray still loves the ferocious heat of battle and she will be more determined than ever to win her first professional fight at home. But Taylor would be advised to rely on her superior ringcraft and vast experience rather than lose herself in the kind of savage fight that she relishes.

The tranquillity of Vernon will seem a very long way away on Saturday night. It seems vital that Taylor finds some of the calm that defines her away from the ring as she looks to secure a glorious homecoming amid the bedlam in Dublin.
-
---
Related Articles