Leicester City vs. Manchester United result: Ronaldo, Red Devils in crisis after 4-2 loss
-
In one of the best matches of the Premier League weekend, Manchester United will look to get back on track against a Leicester City team that is hoping to make up for lost ground.

Manchester United (4th, 14 points) is coming off a loss (at home to Aston Villa) and a draw (1-1 vs. Everton). With Chelsea, Liverpool and Manchester City rolling over opponents, Cristiano Ronaldo & Co. can't afford to drop more points.

The Red Devils will be facing a Leicester City (13th, 8 points) side that has been underwhelming in league play (2-3-2 record) despite high expectations entering the season. Foxes veteran Jamie Vardy, the second-highest Premier League scorer this season (six goals), would no doubt take great satisfaction in outshining Ronaldo at home.

Sporting News will be following Saturday's match live and providing score updates, commentary and highlights as they happen.

93rd min.: In a play that sums up the day for Manchester United, Cristiano Ronaldo can't make contact on a ball over the top and the ball ends up in the hands of Schmeichel. Ronaldo fell short and so is Manchester United.

91st min.: Daka scores! He puts it home at the far post on a free kick cross that makes it across the six-yard box.

87th min.: SUB - Leicester City brings on Jannik Vestergaard to help close this one out. He's on for Jonny Evans.

83rd min.: Jamie Vardy scores! Ayoze Perez pokes the the ball between two defenders to Vardy who curls it on the half-volley. What a sequence.

82nd min.: Marcus Rashford scores! Great ball over the top by Victor Lindelof and what a finish by the England forward. No chance for Kasper Schmeichel in the one-on-one.

80th min.: SUBS - Two changes for Manchester United in an attempt to make a comeback. Jesse Lingard (for Greenwood) and Scott McTominay (for Matic).

78th min.: Leicester takes the lead! On the corner kick Daka takes another shot, De Gea makes the kick save, but the ball ends up on the foot of Soyuncu who taps it home.

78th min.: Daka immediately dangerous with a run in behind on a through ball and he forces a save from De Gea.

77th min.: SUB - Patson Daka on for Kelechi Iheanacho moments after Cristiano Ronaldo is caught offside on a dangerous break.

76th min.: Post! Youri Tielemans singlehandedly wins the ball from Man United's Matic and Pogba and then fires on goal, De Gea tips the ball off the post. Nothing comes from the corner.

73rd min.: It's Ayoze Perez on for Leicester's James Maddison.

70th min.: Great cross by Man United's Luke Shaw into the Leicester box. Caglar Soyuncu doesn't head it and Ronaldo with the sun in his eyes is surprised by it. It could've been dangerous.

65th min.: SUB - And Marcus Rashford comes on. It's for Jadon Sancho, who was a non-factor in this game wide left.

65th min.: Great ball by Bruno Fernandes in the box toward Cristiano Ronaldo, but he's offside though Schmeichel makes a good save.

61st min.: Leicester City with a few good spells of possession as Man United get set to introduce Marcus Rashford.

55th min.: Great half-volley attempt by Nemanja Matic from distance and it just whizzes above the crossbar.

52nd min.: Tielemans with another quick pass forward to Vardy and Lindelhof takes him down and gets a yellow card. James Maddison hits the wall on the ensuing free kick.

50th min.: And again with the Greenwood left-footed curler. No payoff for Manchester United.

48th min.: In what seems to be the only way that Manchester United knows how to attack in this game, it's Mason Greenwood on the right going to his left foot and this time firing high of the target.

46th min.: The second half is underway. No changes. And right away, Youri Tielemans wins the ball and Kelechi Iheanacho fires on goal, but it's right at De Gea. It was not angled enough. Easy save.

Halftime: That first half will be remembered for the two great goals, but Leicester City was clearly the better side. Brendan Rodgers got his formation right for this one and the Foxes are bossing the midfield and getting through it easily. Then the Leicester forwards have Man United's defenders on their heels and that's not been a positive for Harry Maguire, who only started training late in the week and is looking off his game. The next goal looks most likely to come from Leicester. The five-man back line has kept Cristiano Ronaldo in check on the other side. Jadon Sancho is once again invisible.

49th+ min.: Dangerous set piece by Leicester. It's a play right off the training ground for the Foxes and Lindelhof puts it out for a corner before Vardy can get to it. Then the halftime whistle sounds.

46th+ min.: Cristiano Ronaldo attempts the bicycle kick, but Leicester right wingback Ricardo Pereira heads the ball away before it can reach the Man United star.

40th min.: Leicester City plays out of the Man United pressure and the ball ends up on the foot of Kelechi Iheanacho, whose low show barely misses the left post.

31st min.: What an equalizer by Leicester City! High pressure from Leicester and Iheanacho steals it from Maguire, serves Youri Tielemans, who lobs De Gea with one of the prettiest goals you'll ever see.

28th min.: Cristiano Ronaldo shot punched away by Kasper Schmeichel. The 'keeper saw it at the last minute. Good reaction.

27th min.: Ricardo Pereira sends a ball across the face of the goal and it comes within inches of the far left post. When Leicester attacks, it's managing to penetrate fairly easily.

21st min.: Leicester responds by creating chaos around the Man United box again. It ends with a Vardy shot right at David De Gea. Here's what you have to know about how good Greenwood's been:

19th min.: What a goal Mason Greenwood!!! He fires another left-footed shot from the right side and it goes into the far upper 90. Fantastic strike. Greenwood has been one of Manchester United's best players so far this season.

17th min.: Corner kick for Manchester United and Paul Pogba heads high, but he was off balance on the attempt.

13th min.: First shot on goal by Manchester United via Mason Greenwood. He sprints down the right and puts the ball on his left foot, but his attempt is right at goalkeeper Kasper Schmeichel.

10th min.: James Maddison spins Victor Lindelof around before getting a shot off. That was weak defending from Lindelhof.

9th min.: Youri Tielemans is up for this one. Some good passing to start from him, and Leicester are buzzing around the Manchester United box. But Manchester United captain Harry Maguire holding things together.

5th min.: What a run by Kelechi Iheanacho for Leicester. The ball ends up on the feet of Youri Tielemans in the box, but his dangerous cross in the box is cleared by Harry Maguire. Foxes threatening early in transition.

1st min.: We're off at the King Power.

9:05 a.m.: Marcus Rashford's back and available off the bench.

Leicester look to set up with a five-man back line against the loaded Manchester United attacking front. Jonny Evans was a question mark because of an injury, but he makes the lineup while Jannik Vestergaard is on the bench. Wesley Fofana and Wilfried Ndidi are the big injury absences for Leicester City.

Manchester United center back Raphael Varane picked up a groin injury on international duty, but Harry Maguire joined practice late in the week and is considered fit to start. In addition, midfielder Fred and forward Edinson Cavani will be sitting out after playing on Thursday in the Brazil vs. Uruguay World Cup qualifier. Paul Pogba takes Fred's spot in central midfield with Jadon Sancho getting the start.

How to watch Leicester City vs. Manchester United

The Leicester City vs. Manchester United match will be carried in the USA in both English (USA Network) and Spanish (Universo). Both channels are streamed on fuboTV , which is available for a free 7-day trial to new subscribers .
-
---
Related Articles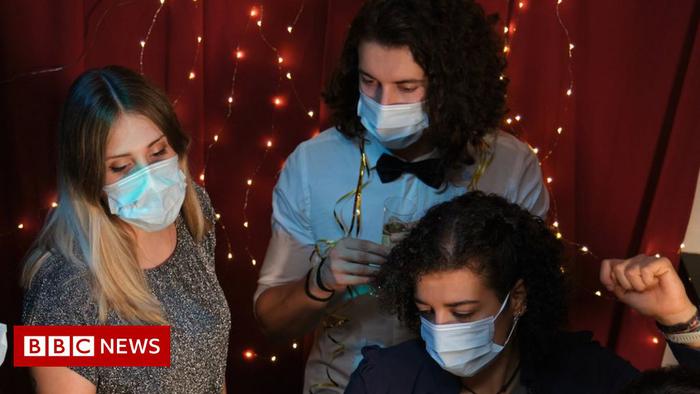 HOT TRENDS
HOT TRENDS
HOT TRENDS