School's out as Rohit, Iyer rip up the textbooks in Mumbai
-
Admit it. This is not the article you came to read. The one you came to read is here . That's where you can celebrate the current king of Indian batting breaking the record of the last king of Indian batting, in front of the old king, in the old king's home city no less, in the spiritual home of Indian cricket no less. It's not so much a baton being passed, or even a coronation, as much as the Platinum Jubilee Celebration of Indian Batting Royalty (and here you were thinking this was a World Cup semi-final lol).

This is the moment to ask yourself why you clicked here and chose to spend this bit of your life not in that celebration?

It was dying when Rohit came through, though ghosts still lingered. He was spotted by Dilip Vengsarkar, an alumnus. He had - still has - the technique purists can sleep easy with. But in those early days they used to raise eyebrows over how he'd invariably give his wicket away with some carelessly attacking shot and those things were banned in that school. Those shots, they fretted, were the final nails in the coffin of that tradition of batsmanship.

In one sense since, it could be argued that Rohit's career has actually played out in a way that makes him a fitting graduate, the last one maybe. He has blossomed into a secure Test opener, scoring his first away hundred in cloudy, swingy, seamy England. Even his white-ball career carried the basic ethos of that tradition, not shedding the impulses entirely just smoothing their edges. Get through powerplays, protect wicket, build assiduously, then take off. Bat long, bat big, be greedy, be selfish.

After which, finally, is the real point of this: that this late-career transformation for Rohit has not stopped feeling remarkable since it began. Think about this. A batter from the end of a tradition in which keeping your wicket intact is a non-negotiable, chided early for not doing so, becomes a fairly ruthless and calculated run glutton, before convincing himself nearly two decades later that everything he has learnt is wrong and has to be unlearnt; that self-preservation is over-rated and sub-optimal; that attacking intent percentages are >>> than control percentages.

Look at his scores in this tournament. One hundred - not a daddy - a couple of 80s and four innings between 40 and 48. That's a rolling troll of a campaign, of all those people who harp on about conversions, of turning starts into scores, runs into landmarks and landmarks into skyscrapers. It's fair to assume Rohit was one of those guys until recently.

And it's been exhilarating to watch, arguably never more than at the Wankhede , when something very real was at stake, where the cost of failure, of getting out skewering a shot on 47 high into the sky before the powerplay had ended, was about as high as it can be. This innings, this entire tournament, Rohit has batted with the carefree energy of someone quitting a crappy job, of not having to pass an exam because they already got into college, walking away from an unhealthy marriage, or becoming a committed nudist - the energy released in shedding short-term toxicity for longer-term reward.

It helps to be captain, who is expected to set the tone. It helps to have a coach who has been an enabler. Not least it helps to be Rohit Sharma, to be capable of batting like this. He's the fifth-highest run-scorer for the tournament but has the highest strike rate of the top 10; the fifth-best average in his own batting order for this tournament but easily the most impactful.

It's even starker in the first powerplay, where his record reads 354 runs (266 balls, 42x4, 21x6, strike rate 133.1) and all other India batters in that phase are 300 runs (334 balls, 46x4, 7x6, strike rate 89.8). He has hit a boundary every four balls, the others every 6.3. A record that leads even a batter such as Shubnam Gill to say that he's happy to stand at the non-striker end and watch his captain do his thing.

It's moot whether it is Rohit's batting that has allowed others to flourish, or their presence that has encouraged him to unleash himself, because the result is the World Cup Iyer has been having. Which is to say, a spectacular one.

Iyer is also a Mumbaikar, but he is definitely not of that school. In fact, he is not really of any school as much as he is another gleaming product off the assembly line of modern Indian batting; a batter for whom format is incidental, who sees no colour in a ball; for whom these are merely platforms to showcase his underlying skill; a batter who broke through in the Ranji Trophy the same year he did in the IPL.

He's one of those who, in a feisty press conference the other day, can say he plays shots comfortable in the knowledge that it can cost him his wicket yet, when it comes to the long form, has shown the ability and willingness to put a price on that wicket. One of those the world might see as the very manifestation of an idea whose time has come. Of course, India has produced Shreyas Iyer. What else should the game's richest member, with the largest talent pool and the best resources at its disposal, be producing? One of those opponents look at and wonder about the unfairness of life and an order that already has Rohit, the guy about whom you should be reading, Gill and KL Rahul. In fact, all the time you were focused on that guy you should be reading about, with all the scrutiny on that record, Iyer slipped away to simply do his own thing.

When India's scoring rate fell below seven for the first time in the day - hardly an intractable problem admittedly - soon after Gill had retired, Iyer stepped out and lofted Rachin Ravindra beyond the sight screen, before slicing him past point for a boundary.

That guy got out and next ball Iyer… I don't, by this stage, need to tell you what he did off another Ravindra ball. And just in case you didn't notice it amid the adulation and feels, he did it again at the end of the over.
-
---
Related Articles
HOT TRENDS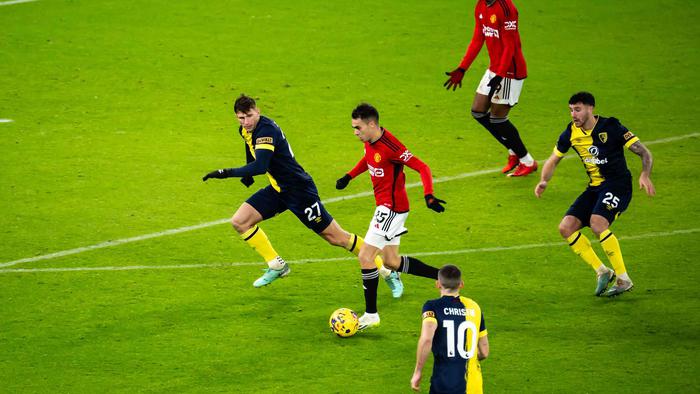 HOT TRENDS