Sheffield Wednesday v Sunderland: League One playoff semi-final – live!
-
70 min Darren Moore was about to make a double substitution, with Paterson and Nathaniel Mendez-Laing coming on, but he may have to revise that because of Hutchinson's injury. Indeed he does: Mendez-Laing and Liam Palmer come on for Hutchinson and Jack Hunt.

69 min "I'm trying to enjoy the game," says Adam Hurst, "but as with the first leg, and as with the old Tyne-Wear derby, I can't work out who is who. Both in white + stripes, both with black shorts and socks, whose bright idea was this? Even the ref and assistants barely stand out from the outfield players." Even the numbers are quite hard to pick out, certainly on the Sunderland shirts.



"I hope all is well," writes Bill S Preston. "I am very much enjoying the minute by minute at present. It seems to be a pretty zingy game in S6! All animal, maybe? Anyhow, do you think the pace will be sustained over the second half, or will Wednesday be content to grab a goal, sit back slightly, ride the clock down, and hope the goal will come given their home record? And I hope the referee doesn't forget to wind his watch." I've given up trying to predict human nature given, well, everything, but my instinct is that Wednesday will keep pushing even if they score. They're so good at home that there's no reason for them to try to take it to penalties (if they have the opportunity).

One for the Sheffield Wednesday fans I recently received a copy of Gareth Platt's When a Giant Stirred, which is about Wednesday's (mostly) golden period between 1976 and 1993. I haven't had chance to start it yet but it looks great, and I know he's interviewed a number of the central characters. If you're of a certain age and persuasion, I'm sure it will appeal. On that note, can any Sunderland fans recommend a book on the Peter Reid years? Does one exist? I know there's Premier Passions but I'd love to read the full story, particularly the second spell in the Premier League. I interviewed Niall Quinn a few years ago and he spoke with such fondness about that period, on and off the field.

"[Will we see a different Wednesday from the first leg?] I think we have to. It was a tough game up there but we're at home and we've had a good couple of days. I brought Jack [Hunt] and Josh [Windass] in to freshen it up a bit – Jack has been superb and Josh will give them something different to think about with his movement. "We're really proud of our home record and we want to carry on in that vein, but we know we'll have to be at our best against a very good team."

Hello and welcome part two of the heavyweight playoff clash between Sheffield Wednesday and Sunderland. Between them, these don't say sleeping giants, don't say sleeping giants teams have spent 152 seasons in the top flight. That was then and this is now; that was just nostalgia. Right here, right now, their sole ambition is to return to the Championship. Both teams could be two games away – tonight's match at Hillsborough, then the playoff final against Wycombe a week on Saturday. Sunderland lead 1-0 from the first leg at the Stadium of Light, and will take heart from their dominance in that game. But Wednesday had the best home record in League One this season, which included an emphatic 3-0 win over Sunderland in November. (They also lost the return fixture 5-0, so there's that.) This game has a diverse wardrobe, but at heart it's a 50/50 contest. Just as it should be.
-
---
Related Articles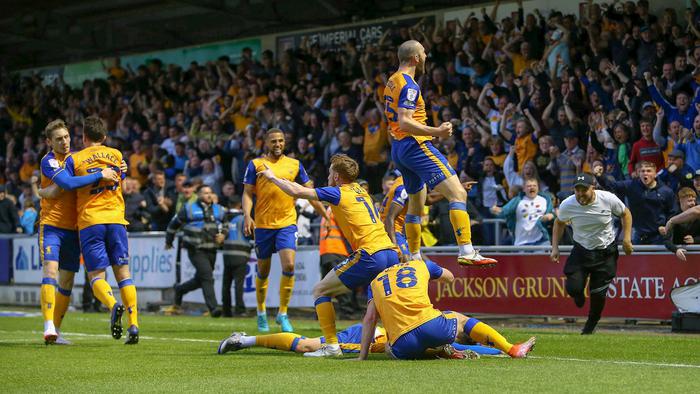 HOT TRENDS